A few days ago I decided to take a stroll around the food blogosphere. I do this every once and a while, usually searching for ice cream recipes, inspiration, and delicious pictures. Eventually I came across Sugar Plum, where Emiline had chosen to throw a St. Patrick's Day food blog event. I've never participated in a blog event before. And with beer plentiful here in Sweden, I knew I must participate. Even before I had made that decision, my mind had started wandering around the "kitchen." This test kitchen, thought mostly fanciful, is unavoidably accompanied by a growling stomach and a half-concealed grin. Anyways.

Some initial thoughts: Beer, cream, ice cream, no ice cream maker, beer, pudding, génoise, no pans, mousse, beer.

I decided a mousse would be perfectly spoonable and elegant. And why not add whipped cream? I've run into a few problems while cooking in my Swedish kitchen the last two months. I don't want to spend (too much) money on kitchen essentials that I know I will leave behind in 4 months. Also, it's just difficult to find certain ingredients. Baking soda and cream of tartar have both eluded me in the grocery stores! Baking soda! And, with this in mind, I set out to make mousse with neither electric mixer nor recipe. dumb

partially inspired by the drink: Black and tan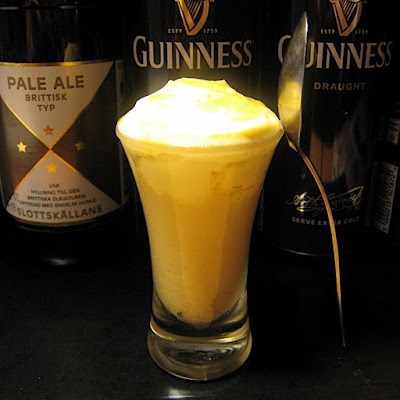 served in a shot glass.

GUINNESS-CARAMEL MOUSSE WITH ORANGE-ALE WHIPPED CREAM
(not exact, and not portioned well)

::::Guinness-caramel mousse::::
::1/2 c Guinness (room temp preferred)
::1 c sugar
::2 T water
::4 eggs separated
::1/2 c heavy cream
::cream of tartar (I did not use this, but you should)
-heat 1/2 c sugar and water in saucepan on medium-high until sugar dissolves and caramelizes.
-take off heat and add Guinness (it will foam like crazy)
-reduce heat to Low and reduce to about 1/2 c.
-beat egg yolks with about 1/4 c sugar until light
-beat egg whites with a tablespoon sugar and a bit of cream of tartar until stiff peaks.
-beat cream with a tablespoon sugar until stiff peaks.
-beat yolks continuously while slowly adding in hot Guinness/caramel
-alternate folding in spatula-fulls of whipping cream then egg whites
-pour into glasses, cover, chill.

::::orange-ale whipped cream::::
::1/2 c pale ale
::1/2 c sugar
::1/4 c fresh orange juice
::the orange's zest (remember to zest before cutting the orange!)
::3/4-1 c cream
-heat sugar and ale until sugar dissolves over medium-high.
-add zest and juice and turn heat to Low
-reduce until about 1/2 c
-chill
-mix orange-ale syrup with cream and whip until stiff peaks

Okay. It tastes really great. Both parts of this recipe taste fine on their own. The beer and flavoring parings are great. Dark, creamy Guinness with smooth, complex caramel. The light ale whipped with fresh orange. Great.
With proper kitchen appliances I would expect both to have more complex/contrasting textures. And maybe next time chocolate-guinness rather than caramel. Or both?

I'm looking forward to seeing what the other bloggers put together. Should be a delicious moment.