I've recently baked a slew of quick-breads. But I've also had yeast on hand for the last few weeks with the intent to make kenalbullar (Swedish cinnamon rolls!). Without a rolling pin, canned food, soda or beer cans available as flattening tools, I've had to postpone my cinnamon filled, gooey expectations. After day-dreaming a particularly delicious bread pudding recipe yesterday and determining that I don't want to buy a loaf of bread I figured I might as well bake my own. So, with my limited baking experience (pizza dough and cinnamon rolls) I set out on a path of self discovery. (not as epic as it seems, but quite delicious, hopefully)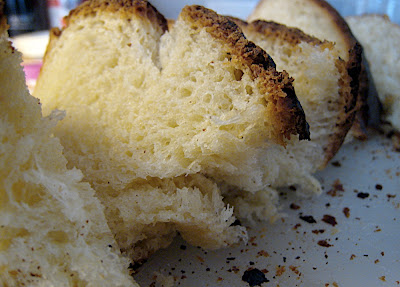 I have read many a bread recipe in my life. All sorts of measurements and slight variations that produce drastically different results. I am always drawn to what I call "simple" recipes, such that one measuring cup can do most of the work. So why not try out this principle and cross my fingers for good results?

BREAD #1
I figured adding an egg and honey would make it challah-esque. silly, I know.
::1/4 c milk
::1/4 c water
::1/4 c honey
::1 T yeast
::1 egg
::1/4 c butter
::5/4 c flour
::1 T salt
-mix milk, water, and honey and warm in microwave for about 30 seconds or until warm.
-mix in yeast and let sit for 10 minutes
-in the meantime: melt butter in microwave and beat in egg.
-combine egg/butter with yeasty mix
-pour into a bowl of flour and salt.
-mix with wooden spoon adding a little flour if needed
-turn out onto floured surface and knead for 7 (?) minutes
-place in oiled/buttered bowl, cover with moist towel, and let rise for about 45 minutes
-on floured surface, separate dough into 3 pieces.
-gently form into long strands and braid.
-place in baking pan, covered, and let it rise until oven is preheated.
-make an egg wash from yolk and milk
-bake at 375 for 30 minutes

This bread met my expectations. It's fairly plain and moist, like a mellow challah. Delcious with butter and honey or creamcheese, cheese, and cucumbers (that's what the Swedes like). It will be a perfect candidate for bread pudding after some drying.

Leftover dough becomes a mini-round: !