The other day at the grocer a friend recommended apple cinnamon yogurt and I immediately schemed this bread. I've been wanting to whip together a bread with some yogurt for some time now. It's simple and subtly sweet with gooey granny smiths lining the bottom! I was excited.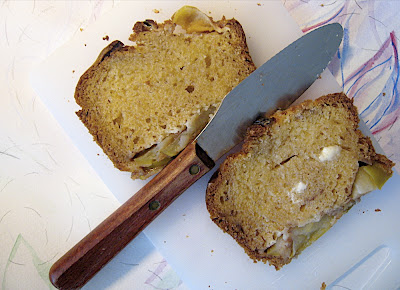 Apple Yogurt Bread
::1/4 c softened butter
::1/4 c sugar
::2 eggs
::1/2 c yogurt (I used a sweet, cinnamon/apple variety)
::1 c flour
::1 t baking powder
::1 t baking soda
::salt
::cinnamon
::2 granny smiths
-cream together butter and sugar
-mix in eggs then yogurt.
-mix flour, baking powder, soda, salt, and a little cinnamon
-combine dry and wet
-wash, core, and slice apples
-toss them in a mix of cinnamon, sugar, and flour until coated
-place apples at bottom of buttered pan
-spread dough on top of apples
-bake at 350 for 45 minutes

Wait until the bread sufficiently cools until slicing and the baked apples will stay intact. The upper bread is very simple but moist. What's special is the combination of bread and apples. They add a needed tangy sweetness. This is great by itself or spread with butter. Maybe consider adding salt roasted walnuts. Or topping it with an brown sugar, oat, egg white glazing? Good times.