I was hungry and unmotivated to trek to the grocer at 9pm. Luckily, with my recent acquisition of baking soda, I can satisfy my snacking needs with simple, homemade quick-breads. Also, limited by a small amount of butter, I decided to add sesame oil to dough, and then why not ginger?

served warm with drizzled honey: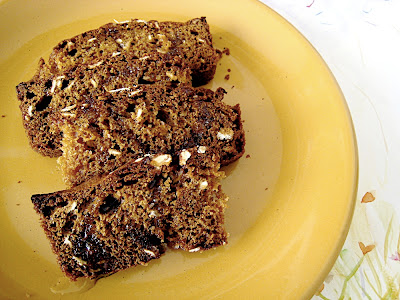 ...also: darker than expected.

GINGER HONEY SESAME BREAD
::2 T butter (softened)
::1/4 c sesame oil
::1/4 c sugar
::1/4 c honey
::2 eggs
::1 T ginger (freshly grated/minced/pulverized)
::1 c flour
::1/4 c oats
::2 t baking soda
::salt
::cinnamon
-cream together butter, sesame oil, sugar, and honey.
-incorporate eggs and ginger.
-mix flour, oats, baking soda, salt, and cinnamon.
-combine dry and wet ingredients
-pour into sesameOiled baking pan
-bake at 350 for about 40 minutes.

I am really happy with these results. The ginger is strong, but gives way to the pleasant sesame and honey. A brilliant aftertaste. I would consider adding sesame seeds to the mix or as a topping. Maybe cashews.